As Opel bleeds red in Europe, could GM sell it off?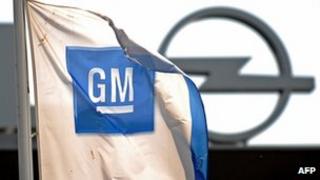 When the company sacks the driver, you know the charabanc has been trundling down the wrong road.
So runs the argument in the car industry after General Motors unseated Karl-Friedrich Stracke as chief executive of Opel.
He's now out of the driving seat at GM's European section (which includes Vauxhall in Britain) - and liberated to "take on special assignments", as the GM statement put it .
Into his place goes Steve Girsky, the head of Opel's board of directors. He's also vice-chairman of GM itself, with a reputation as the troubleshooter from Detroit.
The reshuffle is being read in the industry as: press the foot down harder on the throttle towards change.
As Professor Ferdinand Dudenhoeffer of the Centre for Automotive Research in Duisburg in Germany puts it: "Until yesterday, the strategy was to guarantee jobs through 2016. Today, it is making cuts and closing plants as quickly as possible.
"Why else did they get rid of Stracke? GM was not satisfied with the business plan and the second quarter results were blood red."
And blood red they were.
In contrast to profits for GM's North American operations, the European end made a loss of $256m (£164m) in the first three months of the year and $747m last year.
Since GM emerged from bankruptcy three years ago, Opel has racked up $3.5bn in losses.
Patience stretched
The company says its strategy has not changed, despite the change at the top.
But the new route was only published two weeks ago - and now the man driving it forward has himself been removed.
The new road-map was to shift some General Motors production to Europe, to soak up excess capacity.
Negotiations were under way to guarantee jobs until 2016, with the prospect of a big closure thereafter and with stiff wage restraint in Germany.
But that has clearly not been enough.
The signs are that the headquarters in the (aptly or inaptly named) Renaissance Center on the river in Detroit is getting impatient, particularly as the European market heads from bad to worse.
But maybe the headquarters is part of the problem.
Prof Christian Stadler of the University of Warwick Business School in Britain tells the BBC that part of Opel's difficulty is that it simply hasn't come up with the kind of design innovations which other German carmakers have produced.
"I don't know why they don't get it right," he says, adding that it might be because of its control from North America and a lack of the right culture for design.
But he does think that Opel would survive as a company - though not necessarily still owned by GM.
But changing a culture and bringing in new models is not done overnight.
In the meantime, the pressure to cut costs is intensifying.
As Wolfgang Meinig, head of the automotive research department at the University of Bamberg, puts it: "The most senseless thing a loss-making company can do is maintain existing overcapacity and guarantee jobs under pressure from unions and politicians - it's deadly, like a millstone around the neck of someone drowning.
"There is only one way to guarantee jobs and that's by earning a profit. After all the wrong decisions taken, I really am concerned whether it will still be around in 10 years' time."
Survival of the fittest
GM's European problems are part of a wider picture.
Opel struggles as a mass manufacturer, in contrast to Volkswagen, which goes from strength to strength.
In effect, it's acquired Porsche to complete a portfolio of highly profitable brands (Audi, Bentley, Ducati, Lamborghini and Seat, plus sizeable stakes in Suzuki and Skoda).
All the while, others splutter.
The French car-maker Peugeot-Citroën is struggling. Its manufacturing side is losing just short of $250m a month so it's planning to cut 8,000 jobs.
To which new socialist French President Francois Hollande has said: "The plan in its current condition is not acceptable. It must be renegotiated."
It's not clear how directive - or dirigiste - he wants to be.
There are proposals in France for incentives to consumers who buy French products - although lawyers in European competition law would take a hard look at that.
As they would in Germany.
Brutal economics
The newspaper, Die Welt, opines: "France's Socialist government wants to prevent the radical downsizing at the car maker Peugeot-Citroen at all costs. The result is close to a planned economy and protectionism."
The editorial continues: "Welcome to the state economy. The French Socialist government wants to submit a plan for the automotive industry. From subsidies, only the French manufacturer will profit. And in return, luxury cars will be taxed - particularly German manufacturers."
Just as elsewhere in the European economy, decline sharpens differences. Peugeot-Citroën's problems stem partly from the Mediterranean turmoil.
It makes smaller cars which are stronger in those shrinking markets (in contrast with Volkswagen and, even more so, BMW, which is much stronger in China and North America).
Peugeot-Citroën makes cars for people who may lose their jobs. VW and BMW make cars for the new rich of the East.
This brutal economics is changing politics.
Die Welt reckons that subsidising the French car industry will drive Germany and France apart: "It is a reactionary, authoritarian way - the opposite of freedom. For Angela Merkel, the French are now no longer equal partners."
It's a rocky road ahead.