Rio Tinto reports record iron ore production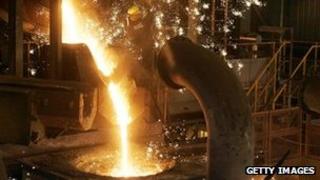 The world's second biggest mining group, Rio Tinto, has reported record production of iron ore and coking coal in the first half of the year.
The Anglo-Australian group produced 94.3 million tonnes of iron ore in the six months to June, up 4% from the same period in 2011.
Output of coking coal rose 9% in those six months to 3.7 million tonnes.
Both resources are used in the production of steel for construction and the motor manufacturing industries.
Production of other building materials such as copper was flat, while aluminium output fell 13% compared with the same period in 2011.
Rio Tinto said it was on target to meet record production targets for 2012 despite the difficult economic climate.
"We are keeping a close eye on the pace of the US recovery, the continuing eurozone crisis and the impact of efforts to stimulate the Chinese economy on the markets that we serve," said chief executive Tom Albanese in a statement.