Yahoo: The challenges facing new boss Marissa Mayer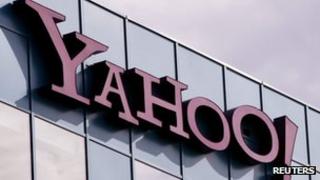 As Marissa Mayer takes the reins at internet giant Yahoo, she inherits a company that has been eclipsed by its rivals and whose financial under-performance has angered shareholders for years.
As the company's third chief executive in a year, the 37-year-old faces a string of major challenges as she sets out to revive this Silicon Valley giant.
When David Filo and Jerry Yang founded Yahoo in 1994, they just wanted a way to keep track of cool stuff online.
But their company quickly grew to become one of the internet's powerhouses and put Sunnyvale, California, on the map.
A scattergun approach to development saw it being eclipsed, however, by more nimble and focused competitors, such as Google and Facebook.
Analysts thought the founders stayed on too long, unable to translate their entrepreneurial start-up mentality into the more staid, corporate world.
Yahoo is now commonly described as "struggling" and "beleaguered". But this is a company with 700 million users in 25 countries worldwide, 13,700 employees, and the fourth most popular website in the US.
It should not be written off.
1. Rally the troops
Yahoo started out as one of the internet's first search engines and content finders.
Since then, employees have had to suffer the indignity of being overtaken by the likes of Google, Facebook and Twitter.
A series of embarrassing gaffes from the company has made matters worse.
For example, the revelation in May that newly appointed chief executive Scott Thompson did not have the degree in accounting and computer science he claimed he had, earned the company embarrassing headlines and lost him his job.
Ms Mayer will have the considerable task of convincing staff they do not work for a Silicon Valley has-been, but a powerful player capable of re-establishing itself in the pantheon of dotcom giants.
Employees and shareholders alike are crying out for a period of stability and consistency of vision.
2. Improve financial performance
Yahoo shareholders have had a tough time since the heady days of 2006, when the share price topped $43 (£27.50). Just two years later, the price had collapsed to $9.
After a modest recovery, Yahoo has been flatlining. It now stands at about $16, still 41% down over the past five years.
It was this continued poor performance that got chief executive Carol Bartz fired in September 2011, after two and a half years in the post.
While Yahoo still has a chunky market capitalisation of $19bn, it must be galling for shareholders to see one-time takeover target Facebook being valued at more than $60bn, and Google at $187bn.
Meanwhile Yahoo's year-on-year net income has fallen nearly 15% to a bit more than $1bn, on revenues down 21.19% to less than $5bn.
Ms Mayer will have to restore the company's financials and give shareholders something to cheer about if she is to survive longer than her predecessors.
3. Focus
Simon Hinde, former UK editorial director at Yahoo, says: "Yahoo's main problem was that it didn't know what it wanted to be - a content provider or a software company.
"It went off in all directions and lost focus. The previous chief executive seemed to be positioning it as a media company, but [Ms] Mayer is an engineer, so will they revert to a software focus?
"Whatever direction she decides to go in, she just needs to focus on it and stick to it."
Ms Mayer seems to be hedging her bets, however.
"There's a very uninteresting debate happening around Yahoo between technology and media and it doesn't really make sense to me," she says.
"Because [when] you look at most major technology companies, media is a big part of its business."
The fact the Yahoo board describes the appointment as "product-centric" implies it wants the company to find its technological edge again, rather than simply repackaging and distributing third-party content.
The good news for Yahoo is its brand is still one of the most recognised in the world.
4. Collaborate
Ross Levinsohn, the former interim chief executive who was widely tipped to clinch the top job, had been positioning Yahoo primarily as a media company providing "engaging social experiences" and premium digital content.
But will Mrs Mayer, who is a software engineer by background, decide to continue with this strategy?
In July, Yahoo announced an advertising partnership with social-networking giant Facebook, and agreed to settle all patent disputes between the companies.
Such content and advertising collaborations could prove to be essential if Yahoo is to catch up with its competitors.
Yahoo has already integrated Facebook sharing capabilities on its sites, incorporating a Social Bar feature that 90 million people use to share news and content.
It is this kind of collaboration, driving traffic and advertising revenue, that will help drive Yahoo's future success.
A merger of the two companies, especially given Facebook's botched flotation in June, which saw $40bn wiped off the social-networking site's valuation in the space of a month, might well be high on Ms Mayer's wish list.
5. Jettison non-core businesses
In May, Yahoo reached a deal with Alibaba Group to sell half of its 40% stake in China's biggest internet company for $7.1bn (£4.5bn).
The move indicated Yahoo's attempts to refocus on its core business as a media content company and return some funds to its long-suffering shareholders.
Yahoo will have to make sure any future acquisitions - if it can afford any, given its depleted resources - add to the company's bottom line and boost profits, not simply internet traffic.