Pension provision still falling, says ONS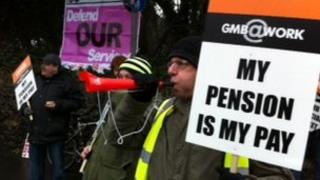 Membership of company and private pension schemes is continuing to decline, figures from the Office for National Statistics show.
Only 9% of staff in the private sector are now contributing to an employer's final-salary pension scheme.
Fewer than half of all employees, whether private or public sector, are paying into any company pension.
And the number of people paying into a personal pension plan has fallen to six million.
The ONS said all this indicated a "substantial drop" in the membership of private, as opposed to state, pension schemes.
The UK's statistical authority also emphasised that the UK's pension system was far less generous than that of many other economically developed countries.
"With a lower total pension provision than many other OECD countries, a pensions gap has been created," the ONS said.
The gap refers to the difference between state pension provision and the level of pension regarded as necessary to live on by the OECD.
The government hopes to reverse this trend when millions of lower paid employees start to be automatically enrolled, from later this year, into either existing company schemes, or into alternatives such as the new national employment savings trust (Nest).
In decline
The fall in private sector membership of final-salary pensions, as employers have shut their schemes to both new recruits and even existing staff, has been dramatic and long-running.
Back in 1997 the final-salary membership rate in the private sector stood at 34%, compared with just 9% recorded last year.
Employee membership of any company pension scheme - final-salary, defined contribution or stakeholder, public and private sector - dropped to 48% last year.
This meant that the overall level of pension scheme membership has dropped below the 50% mark for the first time since modern records started in 1997.
Defined contribution schemes, where the employee builds up a pension pot via investments, are the typical replacement for a company's final-salary scheme.
As the ONS has reported before, the contribution rates for them continue to be poor.
Employers put an average of 15.8% of salary into their staff's final-salary schemes, but contribute just 6.2% of salaries to defined contribution schemes.
Employees put in less too. Where they are members of a final-salary scheme they typically pay in 5.1% of their salaries, but in a defined contribution scheme contribute just 2.7%.