UK mortgage lending fell back in June, lenders say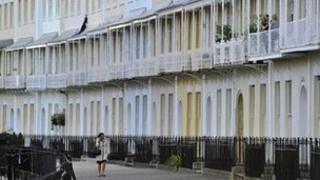 Total mortgage lending, for both home buyers and people moving lenders, fell back in June.
The Council of Mortgage Lenders (CML) said £11.9bn was lent by its members last month.
After a sharp rise the previous month, June's figure was down by 5%, both from May's lending figure and also from June last year.
But the CML said lending for the first half of the year was now 7% higher than in the first half of 2011.
"Mortgage lending has experienced something of a see-saw pattern over recent months, largely reflecting the short-term spike and subsequent trough in house purchase activity associated with the ending of the stamp duty concession for first-time buyers in late March," said the CML's chief economist Bob Pannell.
"Weaker mortgage lending in June points to a more subdued tone for the housing market in line with that for the wider economy," he added.
Mark Harris, chief executive of mortgage broker SPF Private Clients, predicted that lending in the second half of the year would fall.
"The stamp duty concession has had a significant impact on borrowing in the first half of the year, increasing the volume of lending compared with the first six months of 2011," he said.
"We expect a drop off in the second half of the year now that this impetus has been removed, combined with the slowdown expected during the Olympics, the continuing eurozone crisis and weak consumer confidence.
"Any recovery in the housing market remains a long way off," he warned.
Howard Archer of IHS Global Insight said housing market activity was still persistently low compared to "long-term norms".
"While it may eventually be lifted by more mortgages being granted at decent interest rates under the 'funding for lending' scheme to be launched in August by the Bank of England and the Treasury, this is unlikely to be a major factor in the near term at least," he said.