China to probe solar panel products from US and S Korea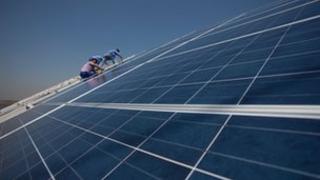 China's trade ministry will launch an investigation into what is says are unfair import prices of US and South Korean polysilicon, used in solar panels.
The probe relates to anti-subsidy and anti-dumping regulations, the ministry said.
China claims local manufacturers of polysilicon are being driven out of business.
This is the latest escalation in a trade dispute between China and the US.
The US has said in the past that China keeps its currency at artificially low levels to boost the competitiveness of its exports.
In May, US authorities imposed import duties on Chinese solar panels of 31%, claiming that China carries out unfair trade practices by flooding the US market with government-subsidised products.
Washington says China's trade moves against the US are largely retaliatory.