House-sitters aim to avoid high rents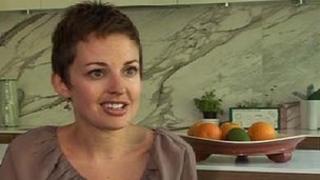 Imagine spending a few weeks at a chateau in France, six months at a beautiful beach house in the Caribbean, or a weekend at a townhouse in Scotland - and paying absolutely nothing.
This could be a reality by getting a lucky draw when house-sitting.
The cost of renting a home in England and Wales rose to near-record levels in June, with the average monthly rent totalling £718.
Moreover, the tough economic climate means that more and more people are trying to find unique ways to save money and house-sitting is becoming an increasingly popular one.
'Budget option'
Andy Peck runs Trustedhousesitters.com which matches homeowners and house-sitters all around the world.
He says he has seen a 30% increase every month in the number of people using his site, from pet owners wanting to get away for a holiday to people looking for a cheap way to live.
"For homeowners it is a cheaper option than sending your pet to the kennels when on you're holiday," he says.
"For those wanting to travel the world on a budget it is a good option. It is quite therapeutic looking after a pet sometimes."
Kristie West house-sits all over the UK. At present, she is living in a four-storey luxury home in west London. She estimates that she has saved around £12,000 a year thanks to her current lifestyle
"I do not pay any rent or any bills. They can be quite crippling as you can easily spend £1,000 a month so not having that expense is brilliant and I get to stay in some beautiful places," she says.
"I also have my own business and sometimes that is really busy, but sometimes it is quiet, so I get to focus on my business without worrying about stressing to pay the rent."
Insurance implications
Other than a yearly joining fee of £39, Mr Peck's website, and others like it, are free to use.
There are also agencies available that charge homeowners up to £50 a day for reference and diligence checks. They can also arrange for homeowners to pay their house-sitters a small fee of around £10 to £20 a day.
Personal finance commentator Jasmine Birtles says using an agency can have its advantages if something goes wrong.
"With an agency you have a central body. If you are a homeowner, you have someone to complain to," she says.
"If you are the house-sitter, you also have someone to complain to and they can adjudicate.
"If you have done it through a free website, it is ultimately up to you. I would recommend that both sides sign some form of contract."
She says there are also potential difficulties surrounding insurance, to cover any injury that a house-sitter might suffer in the house.
"It is a good idea to take out landlord's insurance, for example, as it is a public liability insurance," he says.
"It is also a good idea to mention to your insurance company that you have got someone staying in your home, but generally speaking the insurers are not too concerned about that because everybody has guests staying."
House-sitting is not for everyone. Looking after animals requires a lot of work, and not everyone has the flexibility to move around.
Kristie West says the unpredictable lifestyle suits her needs. But she says the only downside is saying goodbye to the pets she has been looking after.