Kay report criticises City's short-termism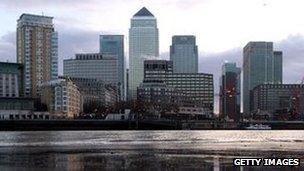 A government-backed review of the financial sector has accused the City of an obsession with making short-term profits.
John Kay, a professor at the London School of Economics, warned that the culture of "short-termism" was hurting Britain's economy.
Mr Kay criticised pay policies that focus on quick gains.
His review of equity markets and long-term decision making was commissioned by Business Secretary Vince Cable.
"A culture of trust relationships, which is actually central to making financial services work, has been displaced by essentially a culture of transactions and trading," Professor Kay told BBC Radio 4's Today programme.
He pointed out that trust in the City was at an all-time low, with a recent survey having found that only 10% of the public believed that bankers told the truth.
Professor Kay urged in his report a return to the more simplified and less prescriptive approach to regulation that prevailed before the 1980s, and one that would focus on long-term relationships between company executives, fund managers and individual savers.
He explained to the BBC that the financial markets were dominated by too many middlemen, and confirmed that his recommendations may mean job losses in the City.
"Over the last 10 years, companies have done OK, people in the financial sector have made a lot of money, and savers have done pretty badly," he said.
He said that the incentives of middlemen were too focused on short-term gain - something that damaged the long-term profitability of companies - and that their remuneration reduced the returns of the people whose money they were responsible for investing.
He recommended applying "fiduciary" standards to more people in the chain responsible for investing pensioners' and savers' money.
"Anyone who manages money or advises people on how to invest their money ought to have an obligation to put their clients' interests first," he said.
He also called for shareholders to have more say on boardroom pay and on key decisions.
Professor Kay criticised annual bonuses, adding that much of company executives' pay should be locked up until they reach retirement, in order to encourage them to focus more on investment and their companies' long-term performance.
"We don't pay politicians bonuses, we don't pay surgeons bonuses... if we did... it wouldn't affect how hard they work, but it would affect the way in which they work."
The report comes after this year's "shareholder spring" which saw some institutional investors challenge pay policies at several companies.
In an interim report published in February, Mr Kay had highlighted concerns from major institutional shareholders, such as pension funds, that the financial markets are policed in a way which favours investment bankers and stockbrokers.
In his final report, Professor Kay's recommendations included:
Setting up a forum for major investors to engage with UK companies and each other
A government review of the scale of merger activity in the UK
Companies should consult their major long-term investors over major board appointments
EU and UK regulators should apply a "fiduciary" legal obligation to anyone who manages other peoples' money or provides investment advice
Asset managers should make full disclosure of all their costs, including transaction costs and performance fees
Ending the requirement for listed companies to produce quarterly financial reports
An independent review of the way in which large investors process financial data, measure financial risk and make investment decisions
Company executive pay should be designed to focus on long-term performance, including company shares to be held until after the executive has retired from the business
Fund managers' pay should similarly be designed to reflect long-term performance
The government should explore the most cost effective means for individual investors to hold shares directly on an electronic register
Related Internet Links
The BBC is not responsible for the content of external sites.