Maruti Suzuki shares drop after Manesar factory lockout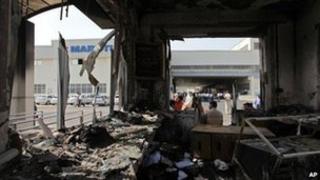 Shares of Maruti Suzuki have fallen after the firm said its factory in Manesar will remain shut until authorities complete a probe into clashes at the unit.
The firm locked out the factory over the weekend, after clashes earlier in the week left a company official dead and 85 injured.
Its shares dropped 5% to 1,086 Indian rupees at the Bombay Stock Exchange.
The violence follows months of difficult labour relations.
"We cannot start production due to a danger to life and safety," R C Bhargava, chairman of the firm, told reporters over the weekend. "We will not endanger our people any further."
"How long it will take? 10 days? 15 days? I don't know," he added.
"We'll put all our resources to study and help the authorities but... I cannot say when we will be able to restart the plant."
Mounting losses
Maruti Suzuki, a joint venture between Maruti and Japan's Suzuki Motor Corporation, has a 50% share of India's booming car market.
The firm's Manesar unit accounts for almost a third of its overall production in India.
With production suspended and the factory shut down for an indefinite period, there are fears that the developments will hurt the firm's profits.
According to various estimates, the carmaker is suffering a loss of between 700m Indian rupees ($15.6m; £8m) to 800m Indian rupees per day.
However, the firm said it had resumed moving finished cars - about 26,000 by one estimate - from the plant to dealers across the country.
Meanwhile, six more people have been held in connection with the violent clashes, the police said.
The arrests, made over the weekend, took the number of people detained over the clashes to 97, including a senior member of a trade union at the factory.