Eurotunnel expects Olympic travel boost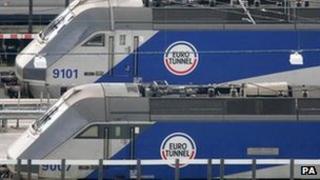 Eurotunnel has said it is expecting a jump in passenger numbers from people travelling to London's Olympic Games.
The company, which operates the Channel Tunnel and runs Le Shuttle vehicle train, said it had already seen a rise in traffic so far this year.
Revenues for the six months to June rose 14% to 473m euros (£572m; £367.5m) compared with a year ago, although net profit was unchanged at 5m euros.
The firm has increased capacity and train speeds for the Olympics.
"Eurotunnel continues to see strong progress in the performance of passenger and truck shuttle services and Eurostar passenger numbers, despite the highly competitive market," the firm said.
'Very satisfactory'
The company said it had opened extra booths to help speed up frontier controls for vehicles using the tunnel.
Truck shuttles saw the biggest gain, rising by 20% for the first half of this year compared with 2011, with car traffic 4% higher and coaches 6% up on last year.
Eurostar passenger numbers also rose by 3%.
Jacques Gounon, the chairman and chief executive of Eurotunnel said: "This first half year has been very satisfactory: traffic has continued to grow in a highly competitive market due to a distinct service offering.
"The financial performance is sound, generating a very good level of cash-flow."
Earlier this year, Eurotunnel said Le Shuttle had broken new traffic records during the Queen's Diamond Jubilee celebrations.