'Perpetual motion' drives electric cars forward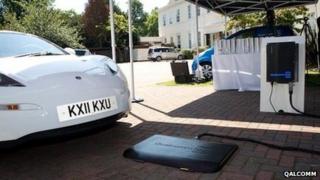 Driving an electric Renault Fluence ZE around London's leafy Wimbledon is not merely a serene experience - it is also a sign of things to come.
Already, electric cars such as the Fluence ZE are charged mainly at night, which means their drivers are freed from the time-consuming burden of stopping for fuel.
But in future, electric car drivers may not even have to plug their cars in.
Renault, together with Formula 1 car designer Delta Motorsport, have signed up to a trial of wireless charging technology that could offer drivers an alluring sensation - or rather illusion - of perpetual motion.
"We can effectively get a car with unlimited range," says Anthony Thomson, vice president of business development at Qualcomm, the company behind so-called inductive charging technology.
The process involves the transfer of energy from an electrically wired pad on the ground to a matching pad under the car via an electromagnetic field.
The car's pad is wired to the car battery, which is automatically charged whenever the vehicle is parked or driven over a pad on the ground.
Several technology companies are working on similar ideas, where every time the car stops it receives a top-up charge, whether at home in the garage, outside a supermarket or even at traffic lights.
In time, the hope is that pads could be installed along roads to charge cars while they are moving.
Two directions
The concept could change the way the car industry thinks about electric motoring.
For years, carmakers and their technology partners have sought to make batteries that extend the range of electric vehicles. Indeed, range anxiety - the fear that the battery might run flat while driving - is often cited as the most important reason why many are reluctant to buy electric cars.
With inductive charging, the focus changes. Rather than merely designing cars that can drive far on a single charge, the industry is now preparing to make vehicles with smaller, lighter and cheaper batteries that are recharged frequently.
"It's going to go both ways," Carlos Ghosn, chief executive of the Renault-Nissan Alliance, told BBC News.
"First, the range is going to increase. Second, you're going to have more and more easy ways to charge quicker and in different ways.
"There is so much investment being poured into the battery, into charging the battery and storing the energy and reusing it, so I am very confident that in the next three to four years you're going to see a revolution in terms of autonomy and in terms of recharging batteries."
Practical concerns
For cost-conscious professional buyers who run large fleets of company cars, such optimistic visions about the future of electric motoring are having undesirable effects.
At a recent electric vehicle seminar organised by the British Vehicle Rental and Leasing Association (BVRLA), which represents organisations that buy about half of all new cars sold in the UK, cautious optimism about the vehicles' potential is tempered with wider concerns.
"It's not just the vehicle. It's also running costs and set-up costs," says Marie Jarrold, British Car Auctions' fleet manager.
And, off course, it is about the residual value of their motoring assets.
According to BVRLA's chief executive, John Lewis, many fleet managers fear that the electric cars currently on offer could soon be rendered obsolete.
"The technology in motor cars will change more in the next 15 years than it has in the last 75 years," he says. Hence many fleet buyers will "want to see manufacturers offering more acceptable electric vehicles and more innovative business models" before they are prepared to sign up.
Government support
But getting fleet buyers on board is crucial.
Second-hand values for electric vehicles are hard to determine until they start feeding vehicles into the used-car market. Carmakers need to sell in large volumes to benefit from economies of scale, and thus push down prices.
And large-scale fleet purchases would help decarbonise the nation's road transport, thus helping the UK meet its longer-term climate goals.
So the government has stepped in, providing some £400m to fund plug-in car grants and other measures "designed to promote uptake of the next generation of ultra-low-emission vehicle technologies".
"Sales have been lower than we had all expected and hoped for," admits Rosie Snashall, head of the consumer incentives team at the Department for Transport's Office for Low Emission Vehicles. "But we want to encourage the early market to be sustainable.
"There's a good package of subsidies in place and a tax system that is still good, so this may be a good time to buy electric vehicles."
Risk-reducing rental
Traditional car-rental companies, such as Europcar and Hertz, say "a number" of firms are hiring electric vehicles.
Hertz International president Michel Taride has also seen a sharp rise in the demand for low-risk long-term rental of plug-in vehicles from the corporate sector.
"Corporations are obviously key players in the early adoption of electric vehicles," he says. "It's good for the planet, it's good for business and it's good for people."
PricewaterhouseCoopers agrees, so the professional-services consultancy is trialling a scheme where its staff are encouraged to book electric vehicles online from Hertz on Demand to shuttle between its two London offices, or to travel to see clients.
"The biggest benefit we've seen has been the growing awareness of PricewaterhouseCoopers partners and staff of electric vehicles," says PwC's head of business services, Mark Avery.
"Once people have tried it and trialled it, they generally come back."
Inspire the driver
But old habits die hard.
"The usage take-up has generally been slow, to be honest," Mr Avery says. "It has not cut as many taxi journeys as we had hoped."
This would not surprise BMW Group executive board member Klaus Draeger, who believes electric motoring must be offered as a package, along with other benefits to the users.
After all, initiatives aimed merely at reducing a company's fuel or taxi bill, or to cut carbon dioxide emissions from a company's fleet, may do little to inspire those who actually use the cars.
"We have to be very careful not to just say 'green'," Mr Draeger says. "Green means I want no - or very little - CO2 emissions; that I'm not prepared to spend money on cars, that I don't care what the car looks like, that to me cars are just about transport."
Instead, the consumer, or the user-chooser of a company car, must be offered vehicles that do not compromise on comfort or prestige - cars that are desirable, he insists.
"Only then will we have a complete package."