Wet weather slows mortgage market, says BBA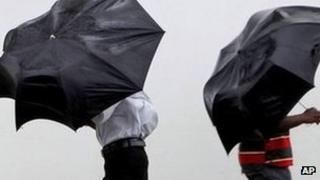 Activity in the UK mortgage market was dampened in June by the spell of bad weather, a banking group has said.
The number of mortgages approved for house purchases dropped by 11% in June compared with the previous month, to 26,269, the British Bankers' Association (BBA) said.
Last month was the UK's wettest June since records began in 1910, Met Office figures showed.
The BBA figures also showed that consumers were reducing debts on loans.
New borrowing on personal loans and overdrafts was outstripped by repayments by £476m in June, the figures showed.
"Paying off loans or overdrafts and building up deposits is the current consumer ambition," said David Dooks, BBA statistics director.
Holiday effect
Mortgage activity has been subdued since the end of March. The BBA said that a number of events took the heat out of the market even more in June.
"June's approvals numbers were affected by the Diamond Jubilee celebrations, Euro 2012 [football tournament], and the wet weather," the BBA said.
The number of mortgage approvals for house purchases was 20.5% lower than the same month a year earlier, and was well below the average of the six months to June 2012.
Meanwhile, gross mortgage lending of £7.2bn in June was also below the six-month average.
"The ongoing eurozone crisis, which has stepped up a level in the past week, will continue to undermine consumer confidence and encourage buyers and sellers to sit on their hands until there is significant improvement," said Mark Harris, chief executive of mortgage broker SPF Private Clients.
"Any recovery in the housing market remains a long way off."