UPS cuts profit outlook for 2012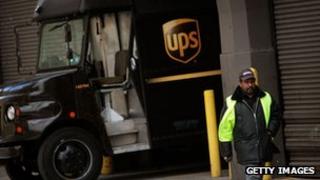 The world's biggest parcel delivery service, UPS, has cut its profit outlook for 2012, blaming worsening global economic conditions.
UPS cut its forecast for earnings per share to $4.50-$4.70 from an earlier estimate of $4.75-$5.00 per share.
The US company also reported a 2% rise in net income to $1.12bn in the three months ending 30 June from $1.09bn a year earlier.
Shares fell 4% in early New York trade on the worse-than-expected results.
Parcel delivery and shipping are often seen as a good indicator of economic activity. Rising revenue is usually a sign firms and households are buying more goods.
In UPS's home market of the United States, revenue increased 4.1% to $8bn. Increased volumes meant UPS trucks and containers were fuller which improved efficiency and profit margins.
However, "increasing uncertainty in the United States, continuing weakness in Asia exports and the debt crisis in Europe are impacting projections of economic expansion," said chief executive, Scott Davis.
UPS delivered fewer packages overseas which reduced international revenue by 10% to $3.0bn in the quarter to the end of June.
Sales from its freight business also dipped slightly to $2.28bn from $2.32bn a year earlier as companies sold fewer goods overseas.
UPS now expects trading in the second half of 2012 to be much tougher than the beginning of the year due to economic downturn in many key markets in Asia and Europe.
"As we look toward the second half of the year, customers are more concerned as greater uncertainty exists. Additionally, economic growth expectations have come down," said Kurt Kuehn, UPS's chief financial officer.