Payday lenders agree new rules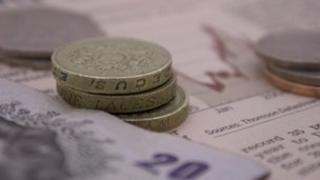 Payday lenders have agreed a new code aiming to ensure that vulnerable UK customers are not caught out by "hidden charges".
Four trade bodies - representing 90% of the lenders - have committed to make fees and charges clearer and to give more protection to those in difficulty.
But one consumer group has described the new code as merely rebranding.
The industry has been told that it must show evidence of clearing rogue operators out of the business.
"At a time when more consumers may turn to payday loans to manage spending, this is no time for complacency," said Business Minister Norman Lamb.
"The industry must continue its commitment to root out rogue lenders and tackle bad practice. I expect to see real results on the ground coming out of these additions to the lenders' codes of practice and that the trade associations will undertake a proper assessment of how well they are working."
'No pressure'
Payday loans are aimed at people who want to borrow a few hundred pounds for a short time, to tide them over until they receive their next wage cheque.
However, the interest charges are high, and consumer groups have raised concerns that consumers have been forced into a spiral of debt.
In the new code , the industry's associations, which speak for more than 100 lenders, have agreed to:
Give clear information on the price of each amount borrowed, including fees and charges
Carry out robust affordability checks to ensure borrowers can repay, before a loan is rolled over
Freeze interest and charges if a customer is in financial difficulty and is using a repayment plan, or after a maximum of 60 days of non-payment
Notify customers in advance if they plan to take recurring payments from a customer's account
"This is an important step towards making short-term lending more transparent and setting the highest standards for our customers," said Caroline Walton, president of the Consumer Finance Association.
However, one consumer group has argued that the agreement does not go far enough.
"This falls far short of expectations. It has taken the industry months to agree to the most basic of codes, and largely amounts to a rebrand of many of the existing rules that have been flouted by some unscrupulous lenders for years," said Richard Lloyd, executive director of Which?.
The other three trade bodies that have agreed to the new charter are the BCCA, the Consumer Credit Trade Association, and the Finance and Leasing Association.
The code is voluntary, and any lender breaking the rules would be told to change the way they worked or face expulsion from their association.
Joanna Elson, chief executive of the Money Advice Trust, said: "It is important to recognise and applaud any moves to protect consumers from falling foul of the payday loans industry, but it is equally important to recognise that there is still a very long way to go.
"It is clear that far more must be done to stem the tide of payday loan problems faced by more and more people across the UK every day. In the first half of this year National Debtline received 9,500 calls for help with payday loans, 61% more than the previous six months."
Rogue operators
Separate plans, going through Parliament, are set to give the Office of Fair Trading the power to stop instantly rogue money lenders, debt collectors and debt advice firms from operating.
The OFT is also conducting its own review into the payday lending market.
"Any action to improve the lending and debt collection practices of payday lenders is welcome news," said an OFT spokesman.
"We are monitoring the situation closely and will be looking for improvements in this sector ahead of the conclusion of our payday lending review later this year."