David Cameron defends economic policies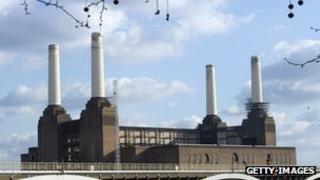 Prime Minister David Cameron has defended the UK's economic policies, saying the government has acted "decisively" to restore confidence in its public finances.
The UK had a "credible and steady plan" in place, he said.
Mr Cameron was speaking at an Olympics investment event that ministers hope will generate £1bn of UK deals.
He said the Games were "value for money" despite the huge costs involved and would have an economic legacy.
In total, the government hopes the Olympics and legacy projects connected to it will generate £13bn for the UK economy over the next 10 years.
'Open for business'
On Wednesday, official figures showed the UK economy shrank by a bigger-than-expected 0.7% between April and June.
Labour called the figures "truly shocking" and said they showed the government's economic plans had failed.
But speaking at the Global Investment Conference on Thursday, Mr Cameron said: "We've taken bold decisions to sort out our public finances and earn credibility with the markets.
"Be in no doubt: we will go on and finish the job. We will deal with the deficit. We will keep UK interest rates low.
"And we will continue to take the tough decisions that are necessary for business leaders and investors to have confidence in the long-term future of the British economy.
"My message today is very simple: Britain is back open for business."
Chancellor George Osborne told the same conference: "You will hear those arguing that we should abandon our plan and spend and borrow our way out of debt... These are the siren voices luring Britain onto the rock. We won't go there."
Trade and tourism
More than 4,000 business leaders and politicians are in London for a series of meetings, including the heads of Google, HSBC, the International Monetary Fund and the European Central Bank.
UK Trade and Investment (UKTI) hopes the 17 London events and others around the world will showcase UK business.
Earlier, Mr Cameron told the BBC that the £13bn would come from deals struck during the Games, as well as tourism and other factors.
He said that he would be playing a part in these meetings.
However, the BBC's sports editor David Bond has said that much of that £13bn target is aspirational rather than definitive, as there is no certainty of what will actually be achieved.
Many economists believe any long-term economic boost from the Games will be marginal.
Figures out on Thursday show that although there has been a fall in the number of new projects, inward investment created nearly 53,000 new jobs last year, which was up 26% on the previous 12 months.
Selling 'Great' Britain
Lancaster House in Central London will become the British Business Embassy and play host to the UK events during the Olympics, which will include a special business summit for the UK's third biggest overseas investor, China.
Ministers forecast these events should generate £1bn in extra sales by UK firms.
UKTI has also identified an additional £4bn of "high value opportunities" such as projects linked to the Sochi 2014 Winter Olympics and the 2016 Games in Rio de Janeiro. It is thought UK firms involved in London 2012 will be well-placed to sell their new-found expertise.
Another £6bn could come from direct investment in UK projects and developments by overseas companies such as the £8bn development of the Battersea Power Station site in South London by Malaysia's SP Setia.
The project is expected to create 33,000 jobs.
Finally, UKTI hopes its new "Great" advertising campaign fronted by Oscar-winning actress Dame Judi Dench and Slumdog Millionaire star Dev Patel will boost the number of visitors to the UK by 4 million from 2011 to 2015, generating a £2.3bn boost to the UK economy.
New figures from UKTI showed inward investment by overseas firms created 52,741 new jobs in the year to the end of March, which was an increase of 26% increase from the previous year.
A further 59,918 existing jobs were also calculated to have been secured by foreign investment.