Canon shares dip after it lowers its earnings forecast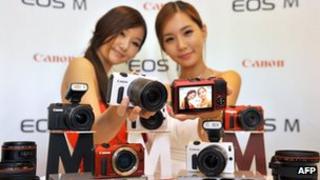 Shares in the Japanese camera and office equipment maker Canon have fallen after the firm cut its earnings forecast for this financial year.
Its shares dropped as much as 14% on the Tokyo Stock Exchange.
On Wednesday, the company predicted a net profit of 250bn yen ($3.2bn; £2bn) for the full year, down from its earlier projection of 290bn yen.
Canon, which relies on overseas sales for as much as 80% of its earnings, has been hurt by slowing global demand.
The firm reported that it made a net profit of 51.7bn yen in the three months to the end of June, a 4% drop from the same period last year.
'Clearly disappointed'
Japanese exporters have been hit by the slowdown in the global economy, especially the debt crisis in the eurozone, which has seen demand for Japanese goods dip.
To add to their woes, the yen continues to remain strong, making their goods expensive for foreign buyers.
The Japanese currency hit an 11-year high of 94.32 yen against the euro earlier this week, up from 123 yen in April last year.
It has been trading close to 79 yen against the US dollar in recent months, up from 85 yen in April 2011.
Analysts said that Canon's latest earnings suggested that Japanese firms were finding it tough to sustain growth amid slowing demand and a strong yen.
"I think there were vague hopes that companies like Canon might be able to keep the profit outlook steady even under this environment," said Takashi Oba, a senior strategist at Okasan Securities.
"The market was clearly disappointed."