Nomura chief resigns following insider-trading scandal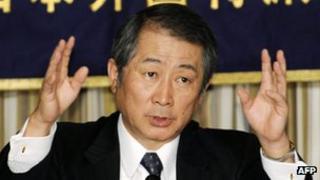 The chief executive of Japan's Nomura Holdings has resigned following a damaging insider-trading scandal at the investment bank.
Kenichi Watanabe will step down on 31 July, and chief operating officer Takumi Shibata will also leave his post.
It is alleged that staff leaked information on share offerings to customers before it was made public.
Nomura shares rose more than 5% in Tokyo on the news.
The resignations came the same day as the bank posted a 89.4% drop in net profit in the fiscal first quarter to 1.89bn yen ($24.19m; £15.60m) from a year earlier. In Japan the fiscal year begins in April.
Revenue was up 12% year-on-year at 369.3bn yen.
'Bold choices'
Koji Nagai, president of Nomura Securities, the domestic brokerage, will replace Mr Watanabe as the new head of the group.
"We will make bold choices of what we will focus on," said Mr Nagai at a press conference, adding he would chart a "new global strategy".
"We will not simply stick to how we did things in the past," he said.
Japan's largest investment bank by revenues also appointed Atsushi Yoshikawa, head of US operations, as its new chief operating officer.
Last month, Nomura slashed the salaries of Mr Watanabe and Mr Shibata after an internal probe into the leaks.
Mr Watanabe was docked half of his six-month salary, while Mr Shibata was hit for half of his five-month salary.
The company has also admitted that some of its staff leaked sensitive information on planned share offerings by energy firm Inpex, Mizuho Financial Group and Tokyo Electric Power in 2010.
But on Thursday, Nomura said it was "highly possible" that there were more cases of insider trading than the three already identified and reported to the Financial Services Agency.
'Last straw'
"When you look at their history, the number of scandals, this was the last straw," said Jim Sinegal, an analyst with research firm Morningstar.
Mr Watanabe and Mr Shibata led Nomura's global push, taking over the non-US operations of Lehman Brothers in 2008, in what was described as a "once-in-a-generation opportunity."
However, the group has struggled since with a number of challenges, including cultural tensions over its business practices.
Earlier this year, Nomura ousted Jesse Bhattal, head of the global wholesale division, following disagreements over the direction of its overseas business.