Alcatel Lucent to slash 5,000 jobs after reporting loss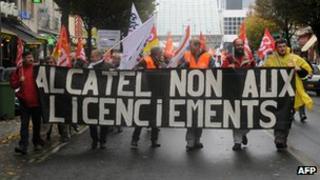 Telecoms equipment maker Alcatel Lucent has said it plans to slash 5,000 jobs in order to save costs as it reported a net loss in the second quarter.
Cutting 6.4% of the workforce would allow the group to save 750m euros ($910m; £587m), the firm said .
The French-US group posted a loss between April and June of 254m euros against a 43m-euro profit a year ago. Revenue fell 7.1% to 3.5bn euros.
Shares in Alcatel Lucent closed down 5.94%.
'Firm actions'
"It is clear from the deteriorating macro environment and the competitive pricing environment in certain regions... that we must embark on a more aggressive transformation," said Alcatel's chief executive Ben Verwaayen.
The Paris-based company is facing challenges from a faltering global economy and stiff competition from China's Huawei Technologies and Sweden's Ericsson.
The company has a cost reduction target of 1.25bn euros by the end of 2013, which will include the job cuts as well as exiting non-profitable contracts.
The company currently employs 78,000 staff worldwide.
Rival Nokia-Siemens Networks recently said it would cut 17,000 jobs - 25% of its staff - in order to streamline its operations.