Rolls-Royce sees profits rise on engine demand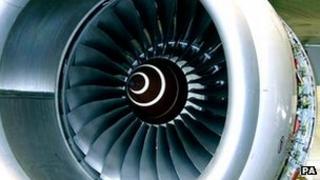 Rolls-Royce has announced a rise in profits thanks to strong demand from planemakers for fuel-efficient engines.
Underlying profit for the first half of 2012 was £687m, up 7% on a year ago. Underlying revenue was up 5% at £5.8bn.
The group's civil aerospace unit drove overall revenue growth, with planemakers Boeing and Airbus increasing production on the back of strong demand from global airlines.
"Rolls-Royce has delivered solid growth," said Rolls chief John Rishton.
He added that he expected profits to continue growing for the rest of 2012.
Revenues at the civil aviation division rose 17% to £3bn, while those at the group's defence unit rose 4% to £1.1bn. Revenue at its marine division, however, fell by 9% to £1.1bn.
Overall, the company saw a 4% rise in its order book to £60.1bn.
Shares in Rolls-Royce closed up 6.69%.
The company's results were also helped by proceeds from the sale of its stake in US engine maker International Aero Engines (IAE).
Earlier this year, Rolls-Royce sold its 33% stake in IAE to Pratt & Whitney for $1.5bn.