Nissan profits drop 15% as strong yen bites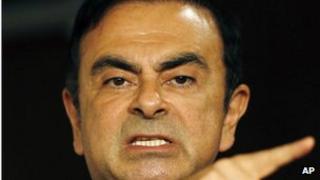 Nissan has reported a 15% fall in net profit in the first quarter after the strong yen hit its results.
Net income was 72.3bn yen ($900m; £577m) in the April-to-June period, but revenue rose 2.6% to 2.14tn yen.
Despite the fall, the Japanese carmaker remained upbeat as sales continued to grow, driven by the popularity of its model line up.
Nissan also said that it expected to reach its full-year forecast of 400bn yen profit.
Operating profit for the quarter was down 19.7% from a year earlier to 120.7bn yen.
"Operating profit declined chiefly because of the impact of historic high levels of the yen that continue until now and a temporary increase in sales costs in North America," said Nissan.
A stronger currency hits profits when overseas earnings are repatriated back home. The yen has hovered near record highs reached against the dollar last year.
To offset the unfavourable currency exchange rate, Nissan has shifted its production abroad to Thailand, which has become an important production hub for Japanese companies.
'Respectable performance'
The carmaker, which shares an alliance with France's Renault, has recovered quickly from the supply disruptions caused by Japan's earthquake and tsunami, as well as flooding in Thailand.
Nissan sold 1.2 million vehicles worldwide in the first quarter, a 14.6% rise compared with a year earlier. It sold a record 4.85 million vehicles in 2011 and expects to sell 5.35 million this year.
"Nissan has delivered a respectable performance in the first quarter despite challenging macro-economic conditions," said Nissan's president and chief executive, Carlos Ghosn.
Mr Ghosn has voiced ambitions of making Nissan the top brand in China, Russia and India.
Sales in China, Nissan's biggest market, rose 12.2%.