Viewpoint: Building banks from scratch creates real competition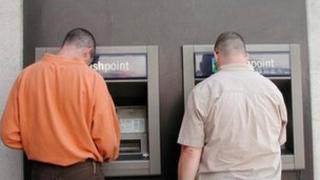 Labour leader Ed Miliband wants UK banks to be forced to sell off hundreds of branches, thereby increasing the number of main UK banks by adding at least two new "challenger" banks that would offer consumers choice and lower charges.
Following Mr Miliband's comments, banking entrepreneur Jim Spowart wrote a viewpoint piece urging UK banks to acquire their way to a competitive market .
I disagree.
Instead, I would argue that the only way to achieve true banking competition is by encouraging entirely new innovative ventures, rather than re-badging existing banks with the same old legacies.
The UK banking market desperately needs more competition from small and medium-sized players, but competition is not just about having more names on the High Street or rebranding existing players.
Rather, it is about providing a differentiated proposition, with true product and service innovation, offering real choice for consumers.
Real competition should mean everyone is able to find a bank with a proposition that suits them, a bank that they can love.
Metro Bank is the only High Street bank to launch from scratch in the last 100 years, and since we launched in 2010 there has been no other High Street bank licensed by the Financial Services Authority.
What does this tell you? It tells you it is incredibly difficult to launch a new bank. But it also tells you it is possible, because we are doing it.
Blank canvas
Mr Spowart is right in that it will take longer to grow organically than if we had bought someone.
But growing organically means we will build the bank by winning customers and creating fans with a strong focus on the execution of our differentiated model.
It also means we build a culture that further sets our model apart.
Our approach is supported by a strong investor base that believes in our model and long-term organic growth plans.
I believe that the only way to build a truly innovative bank is from a blank piece of paper.
Existing banks bring with them a legacy across all of their resources, whether that is technology, premises or people.
These are all blocks to imagination and innovation-flourishing, and take focus away from the most important thing in any business, namely the customer.
Building a culture
I would argue that to be truly game changing, you must demolish existing attitudes within banking and start again, with an entirely fresh and different model to focus on the customer.
At Metro Bank, our greatest strength is our people and our culture.
We work in a differentiated model that focuses on providing amazing customer service. To do that, we have to be absolutely fanatical about executing our model, and working with the right people who believe in the business.
You cannot acquire your way to a strong culture. You have to build it, brick by brick, person by person and customer by customer.
By buying up the legacy of another organisation, you change the name only, not the culture or the ability to deliver differently.
Of course it is difficult to set up a bank. It is rightly difficult.
But the rewards of true competition for consumers and a better performing banking system are worth the hard work.
Craig Donaldson is the chief executive of Metro Bank.
The opinions expressed are those of the author and are not held by the BBC unless specifically stated. The material is for general information only and does not constitute investment, tax, legal or other form of advice. You should not rely on this information to make (or refrain from making) any decisions. Links to external sites are for information only and do not constitute endorsement. Always obtain independent, professional advice for your own particular situation.