Renault profits hit by weak European sales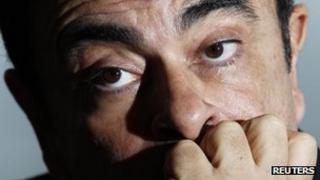 French carmaker Renault has said first-half profits were hit by deteriorating demand in Europe because of the sovereign debt crisis.
Net profits in the six months to June fell 39% to 786m euros ($966m, £615m), down from 1.25bn euros a year earlier, a statement said.
Revenue fell to 20.9bn euros, down 0.8% when compared with the same period last year.
Sales in Europe have suffered as people delay big purchases like cars.
"Low sales in Europe were only partly offset by strong international growth," the carmaker said.
"In a difficult and uncertain environment, Renault remains on track to meet its 2012 objective," chief executive Carlos Ghosn said.
Global growth
Renault's Japanese alliance partner Nissan, Swedish truckmaker Volvo AB and Russia's Avtovaz contributed 630m euros to the company's bottom line, up 13% on the year.
On Thursday, Nissan reported a 15% drop in net profits in the first fiscal quarter, but remained upbeat as demand continued to grow, especially in Asia, thanks to a strong model line-up.
Renault is doing better than French rival PSA Peugeot Citroen, which posted an 819m-euro first half loss earlier this week and is in the process of cutting some 8,000 jobs.
Renault forecast global car demand would grow by 5%, but lowered its outlook for the European and French markets.
The company is now predicting that European demand will decrease by 7%, with sales in France set to fall 11%.
Renault sold a total of 1.33m vehicles, down 3.3% compared with the first half of 2011.
Profit at its core car division fell 35% to 87m euros. The manufacturing arm spent 200m euros in cash as Renault increased vehicle inventories.