BP ordered to pay $3.1bn in damages over Rosneft deal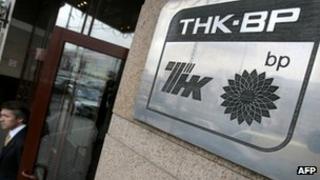 A Russian court has ordered BP to pay $3.1bn (£1.97bn) in damages to its Russian joint venture over a failed Arctic oil exploration deal with Rosneft.
The case against BP was brought by Andrei Prokhorov, a minority shareholder, on behalf of TNK-BP Holding.
He claims that the proposed alliance damaged TNK-BP's interests because it lost out on a lucrative opportunity.
BP said it will challenge the ruling.
TNK-BP is jointly owned by BP and AAR, a group of four Soviet oligarchs.
AAR successfully blocked the tie-up last year in a European court, saying BP had breached its shareholder agreement with TNK-BP, which stipulated that the unit was the UK group's primary vehicle for investments in Russia.
Mr Prokhorov initially valued the lost opportunity at around $13bn, although he later reduced the amount to some $8bn.
Mr Prokhorov, who owns about 0.00001%, has denied AAR's connection to the suit.
Friday's ruling, by an arbitration-based court in Siberia, is against London-based BP and the group's BP Russia Investment Limited venture.
'Corporate attack'
The British group is now directly negotiating the sale of its 50% stake in TNK-BP to Rosneft.
"We consider the court decision as unjustified. Today's ruling will be challenged in the court of appeal," BP said in a statement.
"All the plaintiff's arguments are based on absurd assumptions, and are not related to either the company's interests, or the interests of its shareholders. TNK-BP did not suffer and could not have suffered any damages," from the failed deal with Rosneft, it said.
"TNK-BP initially was not considered as possible participant in the Arctic projects by Rosneft. We consider this claim as an attempted corporate attack and believe that today's ruling should be cancelled."
A lawyer for plaintiff Mr Prokhorov said his client was "fully satisfied".
"For us, this decision was not a surprise," said attorney Dmitry Chepurenko.
BP's attempted share swap with Rosneft last year was part of an ambitious plan by the UK company to develop oil fields in the Arctic.
The Arctic deal eventually went to ExxonMobil.