UK retail insolvencies 'jump on wet weather'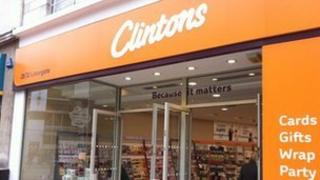 The number of retailers going out of business between April to June jumped sharply, due in part to the wet weather, according to accountants PricewaterhouseCoopers (PwC).
Clinton Cards was among 426 retailers that fell into insolvency in the period, compared with 386 a year ago.
However, across all sectors in the economy, insolvencies fell slightly.
PwC said there had a been a "clear reduction" in insolvencies compared with previous recessions.
Overall, there were 3,927 corporate insolvencies across all sectors of the economy, 3% fewer than a year earlier and 11% fewer than in the first three months of this year.
But the retail sector "continued to buck this trend", the PwC said.
Many retailers operated too many High Street stores, while online rivals were increasing competition, it said.
Outside the retail sector, the construction sector saw 644 insolvencies, the manufacturing sector 427, while hospitality and leisure saw 332.
London had the highest number of companies going under, at 887, but the North East/Cumbria region saw the fastest rate of increase, with 277 insolvencies in the second quarter compared with 163 a year earlier.
Separately, retailers have reported a rise in sales and orders in July in a CBI survey.
In a snapshot of the sector's trading in the first half of the month, 44% of retailers said sales were higher than a year earlier, while 33% reported a fall in sales.
However, the resulting balance of +11% was much weaker than retailers had expected, the business group said.