Ryanair profits hit by higher fuel costs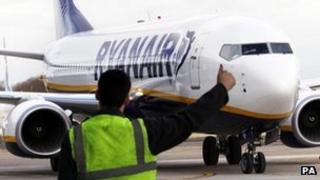 Low-frills airline Ryanair has reported a sharp drop in profits due to "significantly higher fuel costs".
Net profit for the three months to the end of June was 99m euros ($122m; £77m), down 29% on the 139m euros the company made a year earlier.
Traffic growth and an increase in average air fares helped to increase revenue by 11% to 1.28bn euros.
The airline had previously warned that higher fuel costs would dent profits in the second quarter.
Fuel costs rose 27% to 544m euros against a year earlier, which pushed up operating costs by 10%.
'Cautious' outlook
The airline said tough economic conditions in Europe and austerity measures introduced by governments to lower debt levels had "dampened" revenues.
Heavily discounted fares at new bases in places such as Cyprus, Denmark, Hungary and Poland had also impacted on revenue, it said.
Overall, average air fares went up by 4%.
The airline said its outlook for the full financial year remained "cautious", but it maintained its profit forecast of between 400m and 440m euros.