Olympic canal moorings a 'shambles'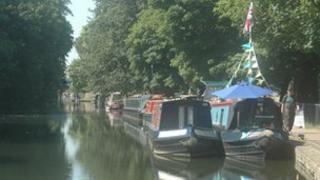 As part of London's hosting of the 2012 Games a restriction zone has been imposed on 15 miles of canal, in the east of the city, which fall within the designated area of the Olympic Park.
But now there is rising anger and frustration among the normally sedate boating fraternity.
Most owners with boats along the Regents Canal were obliged to move further afield after being told that their moorings were being leased out at £350 ($550) a week for the duration of the Olympic and Paralympic Games.
British Waterways, which was responsible for the canals until their duties were taken over by the Canal and River Trust in June 2012, has come in for some heavy criticism.
Before parting with her money in the summer of 2010, Angie Best and her husband visited the stretch of canal which runs from Little Venice in west London to Limehouse Basin in the east.
"It's always handy to know in advance where the local supermarket and launderette is," she says.
When booking her mooring spot adjacent to Victoria Park, she was told by British Waterways that facilities on offer at the Old Ford lock along that stretch of the canal would be improved.
"I thought they would have a shower, the toilets would be better, and there would be extra water outlets," she says with a cynical laugh.
She discovered, as did all the boat owners who have paid up to £1,400 ($2,200) for the privilege of being moored almost on the doorstep of the major Olympic venues, that there have been no improvements or additional services provided.
"To charge you and not provide facilities is not playing the game is it?" she muses.
'Objected about prices'
Di Jones is a member of the Inland Waterways Association, an organisation of volunteers who first came together to prevent the canals from closing down and then to clean them up.
She explains how the annual longboat licence of £2,000 ($3,100) normally allows a boat to moor anywhere on a canal for up to 14 days without charge, although moorings in so-called "honey spots" might be limited.
She is on hand at the Old Ford lock as a voluntary warden to offer advice and keep a neighbourly watch on the boats when the owners are absent.
"When it comes down to the practical things the [Canal and River] trust doesn't have the experience," she says, adding: "We have objected about prices because they have not provided facilities which were promised."
"I did expect them to put in more water supplies," she says, pointing out that there is only one tap, and even that trickles slowly.
Because they are too big to turn round on the canal, boat owners have to reverse back and forth to the lock to replenish water tanks.
Boat owner David Rogers explains: "Once the boat is moored with all the lights up, it is a real hassle to travel 300 metres to fill up with water and then reverse back."
Puffing a big cigar, Mr Rogers adds: "We thought it was a lot of money but it's a once-in-a-lifetime opportunity so we paid it.
"In fairness to British Waterways, there was an email sent in June offering a reduction but they wouldn't guarantee a grade-A mooring which we had already paid for."
But he says that the administration has been "a shambles".
"I have fired off many emails stretching back a year but nobody has ever responded," he says.
His frustration is mitigated by having secured some prime tickets for the Olympic games.
"When we initially booked this berth there were no Olympic tickets on sale," he says, although he had what he refers to as "Olympiafaith".
"My brother-in-law is based in Kuwait and travels the world on business and whatever country he was in, he went onto the local web sites and managed to get 70 tickets including the opening ceremony, closing ceremony, the 100m and 200m men's finals, the velodrome and the acquatic centre."
'Absolute chaos'
Jason Leach, head of the Olympic programmes at the Canal and River Trust, says: "We are sorry that boaters have been experiencing difficulties accessing services and we are doing everything we can to resolve these issues."
He insists that service boats, otherwise known as lavender boats, have been out on the canal every day, providing water and pump-out services to boaters.
The trust later noted that while the lavender craft are out on the canal every day, they are only in specific areas once a week.
"A new tap is being installed so that there are more options to the one already at Old Ford Lock," says Mr Leach.
Jacqueline Storey finally lost her temper when there was still no water two weeks after her arrival.
She is disgruntled that she has complied with the three pages of terms and conditions for her mooring and that the one thing which had been promised, a supply of water, had not been provided.
"A contract is a two-way agreement and they have not kept their end of the bargain," she says.
"I am not paying anything now," she insists.
"It has not been acceptable at all. It has been absolute chaos."
Anna Shumann is more sanguine.
"Part of the lifestyle when living on a boat is thinking more carefully about where supplies are going to come from," she says.
Unlike other people moored along the canal, she praises the lavender boat for delivering 100 litres diesel to her, even though she was away watching the opening ceremony of the Olympics.
"He filled up my tank and I haven't yet paid him," she says, "That is more indicative of the usual service and camaraderie you find on the canals."