Nick Symmonds: Olympic body, business brain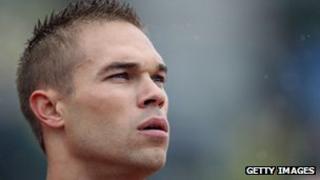 Team USA 800m track event hopeful Nick Symmonds says it is crucial for any US Olympic athlete to secure sponsorship.
Unlike their competitors in many countries, US athletes do not get funding from their respective federations.
"Commercial sponsorship is the only way we are able to keep training. It is the only way we are able to pursue our Olympic dreams," he says.
"Without sponsors and partners, it is absolutely impossible to train at a world elite level."
Value for money
Every athlete has a pecking order when it comes to sponsors - certain brands they would rather be associated with than others.
"The bigger the name, then probably the bigger advertising budget they have and perhaps the bigger pay check that you can ultimately receive," says the middle-distance runner, born in Boise, Idaho.
Sponsors such as Nike and Reebok are already well established because the International World Athletic Federation (IWAF) ensures them a return on their investment by saying athletes can wear brand logos on their clothing.
"If the athletes run well, then their brand is seen by millions of people," Symmonds says.
"Then there are these other non-endemic sponsors, which are very brave in my opinion, as they are still willing to partner with athletes who say, 'I want to work with you, but there is no way that I can advertise you publicly during competition.'"
If a company's logo cannot be publicly displayed, it begs the question - why do they do it, what do they get out of it?
"Partially there is an intrinsic value of saying they helped a kid chase his Olympic dream - having a horse in the race makes the race much more interesting," says Nick Symmonds.
"But there are also certain athletes like myself that are going to bend over backwards and make sure their sponsors get their return on their investment," he asserts.
"Even if I can't wear their corporate logo during competition, every single time I do an interview I am going to mention them because without their help, I wouldn't be where I am today."
Making the choice
It is inevitable that there is competition among athletes about who sponsors them.
"In the world of athletics where you may have thousands of elites, it is very hard to differentiate yourself from the pack," says Symmonds.
"My stance towards sponsorship is making sure that I will give my sponsors a fantastic return on investment," he says.
He guarantees his sponsors by saying they do not have to pay him unless he promotes them.
"That is something other athletes are not prepared to do," he says, indicating they may not want to put sponsors ahead of their training.
"At 24 I certainly couldn't understand this need, at 28 I understand that without them we don't have a sport and we don't have a chance to train for our Olympic dream," he says.
"So at this point, I will sometimes put my sponsors ahead of the training."
Athletes from emerging markets have harder time attracting sponsors, but Symmonds says it is necessary to remember who the sponsor is marketing to.
He points to the huge differences in demographics.
"The US is a country of 330 million people eager to watch their Olympians and see what they are wearing and what they are drinking, so your chance of getting a return on your investment is much greater if you invest in a US athlete," he says.
Making a mark
For the 2012 season, Symmonds auctioned off space on his left arm for a temporary tattoo to advertise a sponsor.
The winning bidder was a Milwaukee advertising agency, which paid $11,000 for the space to advertise its Twitter handle.
During restricted competitions like the Olympic Games, he is required to cover up the tattoo with white tape which, paradoxically, actually draws attention to it.
In an interview with the New York Times, he said: "The biggest thing that rubs me the wrong way is that governing bodies want to control the space I feel I should control."