South Korea inflation at 1.5% moderating to 12-year low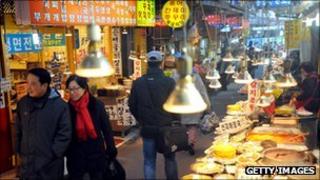 Inflation in South Korea has moderated to a 12-year low, paving the pay for authorities to boost growth as exports and manufacturing data disappoints.
Consumer prices rose 1.5% from a year earlier, Statistics Korea said, the slowest since May 2000. In June prices rose 2.2%.
Low inflation gives the central bank room to reduce the cost of borrowing, to encourage businesses to expand.
Korea's economy has begun showing signs of losing momentum in recent months.
Growth steps
Inflation was driven down by falling prices in the services and communications sectors, which include mobile phones and e-commerce internet business.
"Policymakers are likely to become more aggressive in trying to boost the economy, with several interest rate cuts and a slew of policies to support domestic demand," said Jun Min-kyoo from Korea Investment & Securities.
It comes at a time when the authorities in South Korea have warned of a slowdown.
Last month, the central bank unexpectedly cut its key interest rate for the first time in more than three years in an effort to spur lending.
It also revised its forecasts for economic growth for this year, down from 3.5% to 3%.
Disappointing data
A slew of data released on Tuesday and Wednesday underlined those concerns, as exports slowed to their lowest in three years.
Overseas shipments were down 8.8% in July, compared to the previous year.
Data also shows manufacturing activity suffered its worst decline in seven months, as demand cooled in Europe and elsewhere.
The HSBC purchasing managers index fell to 47.2 in July. A reading below 50 indicates manufacturing activity contracted.
In common with some other countries in Asia, South Korea's economy is driven mainly by exports.
"Tying up all the data together from yesterday and today, everything has become worse," said Park Sang-Hyun from HI Investment and Securities.