Societe Generale profits hit by eurozone debt crisis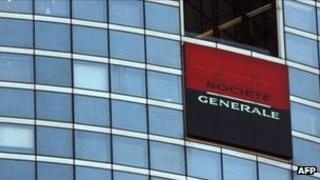 French bank Societe Generale has posted a sharp fall in second quarter profits as the economic slowdown across Europe hit its investment banking division.
Net profit was 433m euros ($533m; £340m), down 42% on the 747m euros the bank made a year earlier. This was well below analysts' expectations.
Underlying revenue fell 7% to 6bn euros, largely due to a 28% fall in investment banking revenue.
The eurozone debt crisis has hit profits at many of Europe's top banks.
"The second quarter was marked by a significant slowdown in economic growth in Europe and continuing strong tensions in European financial markets, with investors holding back on their investments pending durable solutions to the sovereign debt crisis," the bank said in its results statement.
"In France, the elections also prompted a 'wait-and-see' attitude, due to the lack of visibility on the country's new economic policies."
Revenue at the bank's French networks was unchanged at 2bn euros, while international retail banking revenue fell slightly to 1.2bn euros.
Revenue at SocGen's investment banking arm was 1.3bn euros.
The bank also said it had cut operating costs by 6% and had continued to build up its capital reserves. It said it was "confident" of reaching the European target of having between 9% and 9.5% of its assets as protection against unexpected losses by the end of 2013.