BMW profits hit by higher costs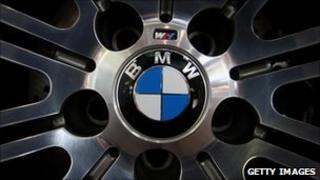 German carmaker BMW has reported a sharp fall in profits despite record sales and revenues.
Net profit for the three months to the end of June was 1.28bn euros ($1.58bn; £1bn), down 28% from a year earlier. Revenue rose 7% to 19.2bn euros.
The company said increased staff costs, higher spending on research and development, and stiff competition had caused the fall in profits.
The figures also suffered by comparison with record profits a year earlier.
"The BMW Group continued to perform extremely well," said BMW chairman Norbert Reithofer .
"We have achieved new sales volume and revenue highs as well as the second-best operating profit in the company's history."
Part of the cost increase was due to a 5% rise in staff levels to 102,007.
Vehicle sales rose by 5.4% to 475,011 during the quarter, and broke the 900,000 level for a half-year period for the first time.
Sales in Europe in the first six months of the year were flat, with 437,338 units sold. However, sales in the US were up 10% and those in Asia jumped by 25%.
The carmaker also reaffirmed its profit targets for this year, saying it still aimed to beat last year's sales and pre-tax earnings figures.