US budget: Congress leaders reach short-term deal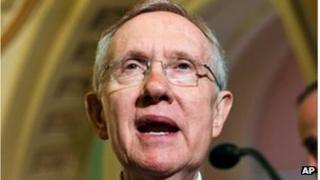 US Congressional leaders have agreed to keep funding the government until next March, narrowly avoiding an end-of-year showdown over taxes and spending.
"It will provide stability for the coming months," said Democratic Senate majority leader Harry Reid, calling for a "spirit of compromise".
The deal would provide funding at an annual rate of $1.047trn (£668bn).
It was reached by Mr Reid, Republican Speaker of the House John Boehner and President Barack Obama.
If Congress passes the resolution by 30 September, federal government agencies and discretionary programmes will benefit from the deal.
The stop-gap deal would eliminate recent wrangling over a looming "fiscal cliff" by the end of the year, when George W Bush-era tax cuts and welfare spending reductions expire.
It also narrowly avoids a bitter showdown between Mr Obama and his Republican opponent, Mitt Romney, in the run-up to the presidential election on 6 November.
'Spirit of compromise'
"This agreement reached between the Senate, the House and the White House provides stability for the coming months, when we will have to resolve critical issues that directly affect middle class families," said Mr Reid in a statement.
"I hope that we can face the challenges ahead in the same spirit of compromise," he added.
Experts warn that failure by lawmakers to agree on a budget deal would nip a fragile US recovery in the bud.
Federal Reserve chairman Ben Bernanke said earlier this month that the economy could suffer a recession early next year if Congress failed to come to an agreement.
The White House welcomed the deal.
"We are encouraged that both sides have agreed to resolve this issue without delay," said press secretary Jay Carney.
"The president has made clear that it is essential that the legislation to fund the government adheres to the funding levels agreed to by both parties last year, and not include ideological or extraneous policy riders," he added.