Fukushima plant operator Tepco suffers massive loss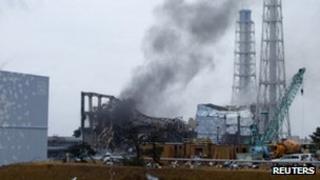 Tokyo Electric Power Co (Tepco), the operator of the Fukushima nuclear plant, has posted a massive quarterly loss as it struggles to recover from last year's nuclear crisis.
The group made a loss of 288.4bn yen ($3.68bn; £2.35bn) in the first three months of 2012, compared with a 572bn-yen loss in the same period last year.
The losses are due to higher fuel costs and compensation payments to those affected by the Fukushima disaster.
It was the worst since Chernobyl.
The group is now relying on fossil fuels to supply power to Tokyo.
It has boosted power generation from its fossil fuel plants, as well as importing costly fuels such as oil and gas, to make up for a nuclear power shortfall when all of Japan's nuclear reactors were shut down last year.
The company said fuel costs had surged since the disaster, rising nearly 54% from a year earlier.
A deadly tsunami triggered by a giant earthquake knocked down the Fukushima Daiichi plant last March in a catastrophe that claimed tens of thousands of victims.
The power station suffered a series of meltdowns and explosions, contaminating vast swathes of land with radiation and forcing thousands of people to abandon their homes.
The embattled group has put aside an estimated 161bn yen for compensation payments related to the disaster.
'Nothing is sacred'
Tepco said revenue was up 15.6% in the April-June period from a year earlier to 1.3trn yen as it raised electricity prices to offset losses, said the company. Japan's fiscal year begins in April.
"We will continue to do whatever we can to reduce costs. We are reviewing everything, and nothing is sacred," said Tepco president Naomi Hirose.
The utility was, in effect, nationalised on Tuesday after the government took a 50.11% stake in the group in exchange for a 1trn yen capital injection.
Tepco forecast a worse-than-expected net loss of 160bn yen for the year ending next March.
It has previously said it hoped to swing back to profit by March 2014.
Among nine listed Japanese utilities that operate nuclear plants, just one made a net profit.
Only two reactors in western Japan have restarted since the disaster, fuelling mass public protests. All of the country's 50 reactors went offline in May for inspection.
"If utilities are unable to restart reactors or raise electricity prices, other measures will need to be taken, but it's too early to think the government may need to step in to help," said Hidetoshi Shioda, an analyst at SMBC Nikko Securities.
Tepco shares closed 2.3% lower.