No-frills savings plans outlined by the UK Treasury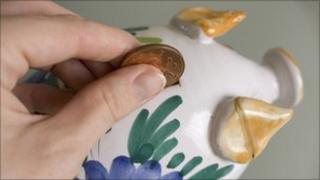 Plans to create a template for "no-frills" savings products in a bid to simplify the market have been outlined by the UK government.
The Treasury wants a simple brand for an easy access savings account, a longer-term savings account and life insurance.
Providers will use the same terms and conditions, but can compete on price, service and value.
The aim is for products to be simple to compare, encouraging people to save.
However, a similar scheme introduced by the previous government failed to take off.
Savings habit
A final report on the plans for simple financial products will be published in February.
However, the initial recommendations suggest that the branded products have the same terms and conditions to ensure there are no catches for customers. There would be no introductory bonuses to the simple savings accounts.
The products would be designed to meet essential basic needs, the Treasury said. They should be easy to understand, easy to compare, easy to buy, and easy to maintain, it added.
Difficulties in comparing existing savings products mean people are unlikely to switch, sticking instead to the status quo that might cost them more, or not be the appropriate choice for them.
Other people simply do not save at all, owing to the complexity of the market.
"The government is committed to putting the consumer back at the heart of the financial system, but we understand that restoring public trust in financial products is not an easy task at the moment," said Mark Hoban, financial secretary to the Treasury.
"Simple financial products offer a unique opportunity to demonstrate that products can both be easy to understand and meet customers' most important financial needs."
In 1999, the Labour government attempted a similar campaign. This was known as the Cat - fair Charges, Access and Terms - scheme and aimed to encourage the take-up of savings products among low-income families and among those with limited experience of financial services.
However this failed to make a significant impact, and price caps that made them less attractive for providers, and not very profitable, a review found.
Such price caps would not be repeated in the latest scheme, the present government has said.