NYSE looks into 'irregular trading' in 140 stocks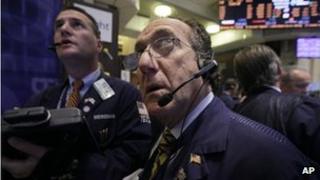 The New York Stock Exchange (NYSE) has completed an investigation into "irregular trading" after a series of unusual swings in some stocks.
The NYSE identified 140 stocks with higher-than-normal trading volumes, including popular stocks like Citigroup and American Airlines.
But they cancelled trades on only six stocks.
The moves brought back memories of the "flash crash" of 2010, when the Dow Jones index fell 10% in just minutes.
"The NYSE and NYSE MKT are currently reviewing irregular trading identified by our people and systems" in 140 stocks between 9:30 am EST and 10:15 EST on Wednesday, the exchange said initially.
Later, the stock exchange concluded that it would cancel trades above or below certain prices on six stocks:
Wizzard Software Corp
China Cord Blood Corp
Reaves Utility Income Fund
E-House (China) Holdings
American Reprographics Company
Quicksilver Resources
"This decision is not subject to appeal," it added.
Reports in US media suggested that a trading algorithm used by the brokerage Knight Capital may have been behind the stock moves.
Algorithms are a mathematical process used for calculation and data processing.
The 700-point sudden share crash in US stocks in May 2010 was caused by a single trader's computer programme, according to the US trading watchdog, the Securities and Exchange Commission (SEC).
It said a "large fundamental trader" used an algorithm to sell 75,000 stocks worth $4.1bn (£2.6bn) extremely rapidly.