Japan Airlines profits more than double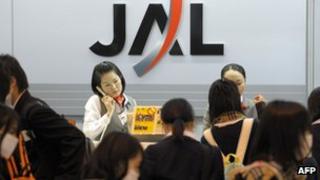 Japan Airlines has said its first-quarter profits more than doubled as it cut costs and the strong yen boosted demand for international travel.
Net profit was 26.9bn yen ($343m; £220m) in the April-to-June period, up from 12.7bn yen a year earlier.
The airline said that revenues at both its international and domestic routes had increased during the period.
The earnings come amid speculation that the firm is planning to re-list on the Tokyo Stock Exchange.
"The robust demand from outbound-Japan leisure travellers driven by the strong yen yielded a greater influence on overall international demand," the carrier said.
The Japanese currency has risen by more than 6% against the US dollar since mid-March, increasing the spending power of consumers. That has helped to boost demand for international travel.
The airline kept its annual profit forecast unchanged at 130bn yen.
In January 2010, Japan Airlines filed for bankruptcy with more than $25bn of debt and required a government-backed bailout. It was one of Japan's biggest corporate failures.