Sharp to cut 5,000 jobs as losses continue to grow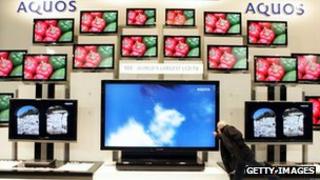 Japan's Sharp Corporation, the maker of Aquos TVs, has said it will cut 5,000 jobs, just under 10% of its workforce, in an attempt to cut costs.
The cuts come as Sharp reported a net loss of 138.4bn yen ($1.8bn; £1.1bn) for the April to June period.
That was up from a 49.3bn yen loss during the same period a year earlier.
Sharp said that a "greater-than-expected" slowdown in demand from Japan and China, and falling prices had hurt its earnings.
The firm also widened its annual loss forecast to 250bn yen, up from its earlier projection of 30bn yen in April.
'Downside risks'
Sharp said it expected "the business environment to remain unpredictable, with increased downside risks".
It added that the risks included "the possible return of the financial crisis in Europe, the appreciation of the yen, the ongoing deflation and energy supply issues in Japan".
The eurozone is a key market for Japanese exporters and the fear is that as the region's debt crisis spreads to the bigger economies such as Spain, it will cut demand.
At the same time, a strong yen also affects firms such as Sharp, making their goods more expensive to foreign buyers and cutting their profits when they repatriate foreign earnings.
The yen has risen by more than 6% against the US dollar since mid-March this year.
To make matters worse for Japanese firms, domestic demand has not grown enough to offset a decline in foreign sales.
Japan has been battling deflation, or falling prices, for many years. While a dip in prices is good for the consumers it can hit the economy and businesses, as buyers tend to put off their purchases in the hope of getting a better deal later on.