UK construction sector 'sees slight growth'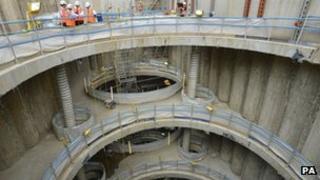 The UK construction sector unexpectedly returned to slight growth in July, according to a closely-watched report, but new orders continued to decline.
The Markit/CIPS construction PMI index was 50.9 in July, up from June's 48.2. Any figure above 50 indicates growth.
Most analysts had expected the sector would continue to contract.
Recent figures showed the UK economy contracted by 0.7% between April and June, largely due to a sharp slowdown in the construction sector.
The latest Markit/CIPS report added that expansion in the construction sector was "largely confined" to the commercial sector, with house building and government projects continuing to decline.
David Noble, chief executive of the Chartered Institute of Purchasing and Supply, the report's co-author, said: "Last month's construction performance was so bad, that this month there was hope for a positive turnaround.
"Worryingly, the sharp drop in new business means there is little chance of the sector rebounding quickly."
The most recent official construction data from the Office for National Statistics (ONS) showed that output in the sector fell by 6.3% in May, compared with the same month last year.
The drop was steeper between March and May, the ONS said, with output down 7.4%.
The main driver in this decline was the fall in new public works, which fell by 22% across the three months, reflecting the impact of government spending cuts.
Earlier this week, the PMI manufacturing survey indicated that UK factory output fell to a three-year low in July.