Nomura told to bolster controls after trading flaws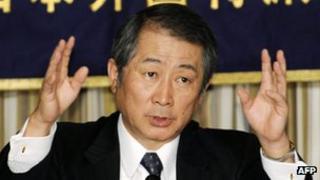 Japan's Nomura Holdings has been told to bolster internal controls after it admitted its role in an insider trading scandal.
The country's Financial Services Agency (FSA) said Nomura must give it reports on the steps it is taking.
Nomura has admitted that some of its staff leaked sensitive information on planned share offerings by a number of firms.
The FSA had the power to give Nomura a stronger punishment.
Its penalty was widely expected after the bank's former chief executive Kenichi Watanabe quit, taking responsibility for the scandal.
'Quite lenient'
According to the bank, staff leaked information about share sales involving energy firm Inpex, Mizuho Financial Group and Tokyo Electric Power in 2010.
Last week, Nomura said it was "highly possible" that there may be more cases of insider trading.
Mariko Oi, the BBC's correspondent in Tokyo, said that the penalty was seen to be "quite lenient".
"Lawyers that I spoke with say that in order to change the corporate and industry culture, harsher penalties are needed and the government is reportedly looking into criminalising insider trading," she added.
Another Japanese firm, Daiwa Securities, has also said that its in-house investigation discovered some employees may have leaked insider information.
It has since slashed its executives' salaries.