Service sector output 'unexpectedly slows in July'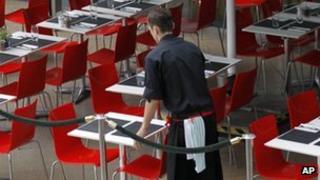 The rate of output in the UK's service sector unexpectedly slowed in July, according to a survey.
The PMI services index from Markit/CIPS fell to 51 in July, from 51.3 in June. Any number above 50 indicates growth.
July's reading came as a surprise, as the index was forecast to rise to 51.5.
The report follows after sister Markit/CIPS surveys earlier this week showed a slight growth in construction output, but further fall in the manufacturing sector.
Commerzbank economist Peter Dixon said: "They [the figures] are weaker than what we would like to have seen... it's indicative of the fact that the economy is very definitely losing momentum.
"We're still above 50, that's a positive, but it's not really boding terribly well at this stage for the start of Q3, given what we've already seen from the manufacturing side."
The giant UK services sector includes everything from banks to hotels and restaurants.
The UK is in recession after the economy contracted by 0.7% between April and June, following a 0.3% drop in the first three months of the year.