Morgan Stanley sued over a product 'designed to fail'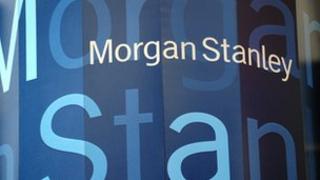 Morgan Stanley is being sued by Singapore investment company Hong Leong Finance over claims it sold financial products that were "designed to fail".
The products were called Pinnacle Notes and were a version of collateralised debt obligations (CDO).
CDOs were at the centre of the 2008 financial crisis which rocked Wall Street and global markets.
Hong Leong Finance had to pay its clients more than $32m (£20m) to cover losses linked to the Pinnacle Notes.
A Morgan Stanley spokesperson declined to comment on the lawsuit when contacted by the BBC.
Riskier investments
According to the complaint filed in a New York federal court, Hong Leong agreed to distribute more than $72m worth of Pinnacle Notes, which were created by Morgan Stanley.
However, Hong Leong claims it would "never have sold the Pinnacle Notes to customers if it had been aware of the Notes' true nature".
It added that "no rational investor would have purchased them".
The suit says that the notes were marketed as a synthetic CDO that was tied to the performance of major companies and sovereign nations with high credit ratings.
But Hong Leong says the notes were actually tied to undisclosed, much riskier investments, such as two troubled Icelandic banks.
When the credit-linked notes turned sour following the 2008 financial crisis, Hong Leong claims it lost tens of millions of dollars and suffered damage to its reputation with clients.
Hong Leong Finance also alleges the US investment firm profited from the products' failure at the expense of investors.