Dreamworks plans entertainment centre in Shanghai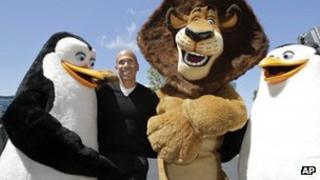 Dreamworks Animation has said it plans to build a 20bn-yuan ($3bn; £2bn) cultural and entertainment site in Shanghai with its Chinese partners.
The Dream Center will open in 2016 in the Xuhui district along the Huangpu river, it said.
The complex aims to create a "global cultural centre" to rival New York's Broadway and London's West End.
It will house the world's largest Imax screen and tourist attractions, as well as restaurants and hotels.
"This doesn't exist anywhere else in the world," Dreamworks chief executive Jeffrey Katzenberg told a news conference.
The Hollywood studio behind Shrek, Kung Fu Panda and Madagascar 3 is hoping to secure a slice of China's growing entertainment industry, which has been growing at an annual pace of about 35%, making it the second largest international market behind Japan.
It recently formed Oriental Dreamworks, a joint venture with three state-backed firms - China Media Capital, Shanghai Media Group and Shanghai Alliance Investment.
The announcement comes on the heels of Disney's plan to open a $3.7bn theme park in Shanghai in 2015.
"It's different from any other large cultural project in China, including Disneyland," Li Ruigang, chairman of China Media Capital, was quoted as saying by the official Xinhua news agency.
Meanwhile, the third instalment of the Kung Fu Panda series will be also be co-produced in China by Oriental Dreamworks.