Asia Pacific Breweries: Thailand firm launches new bid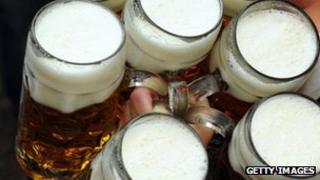 Heineken's bid to take control of Asia Pacific Breweries (APB), the maker of Tiger Beer, has taken a surprise twist after a Thai firm, Kindest Place, offered to buy a stake in the brewer.
It has offered S$55 ($44; £28) a share for a 7.3% stake in APB, currently held directly by Fraser and Neave (F&N).
That is 10% higher than Heineken's offer to F&N for its 40% direct and indirect stakes in APB.
F&N's board had accepted Heineken's bid but it requires shareholder approval.
Analysts said that the Dutch brewer may have to pay more if it wants shareholders to vote in its favour.
"With this latest turn of events, Heineken's current offer will fail," said Goh Han Peng, an analyst at DMG & Partners Securities in Singapore.
"It will have to offer more than S$55 per share to outbid the Thai group, possibly S$60 per share."
Battle for control
Asia's beer market is expected to be among the fastest growing in the world in the coming years.
APB, which is one of the largest brewers in the region, is expected to benefit from the growth in the sector.
However, the brewer's current ownership structure is complicated and various stakeholders have been trying to increase their control on the firm.
Heineken currently controls 42% of the brewery and also owns a direct 9.5% stake in APB.
Singapore conglomerate F&N owns a 40% direct and indirect stake in APB. Meanwhile, Japanese brewer Kirin owns almost 15%of F&N.
If accepted, Kindest Place's bid will take its holding in APB to more than 15%.