China inflation rate dips to a 30-month low in July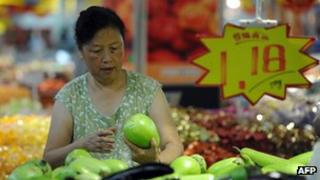 China's inflation dipped to a 30-month low in July, giving policymakers a bigger cushion to boost stimulus measures to spur economic growth.
Consumer prices rose by 1.8% in July, from a year earlier. That was down from a 2.2% growth rate in June and a 3% rise in May.
China has been looking to spur domestic consumption amid a slowing global demand for its exports.
China's economy grew at its slowest pace in three years in second quarter.
The drop in prices of pork and meat and poultry products, which fell by 18.7% and 6.1% from a year earlier respectively, were the key drivers of the slowdown in the rate of inflation.
Further easing?
China's economy grew at an annual rate of 7.6% in the April to June period, down from an 8.1% expansion in the previous three months.
There are fears that growth in the world's second-largest economy may slow further in the coming months.
As a result, Beijing has taken various measures to spur growth.
China's central bank, the People's Bank of China, has cut its key interest rates twice since the start of June. That has taken the benchmark lending rate down to 6%.
It has also cut the amount of money the country's banks must keep in reserve, effectively giving them more money to lend to consumers and businesses.
Analysts said the slowdown in the growth of consumer prices may see policymakers introduce further measures to boost growth.
"This number gives more room for policy easing," said Zhang Zhiwei, chief China economist at Nomura in Hong Kong.
He added that the rate of inflation was "likely be below the official 4% percent target for the year, so the policy focus for the government can stay clearly on growth".