Olympic legacy: White elephant or economic viagra?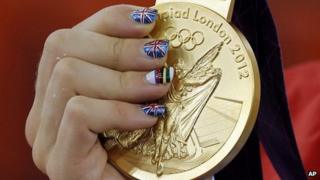 Measuring the sporting success of London 2012 is easy - a quick glance at the medals table tells us unequivocally that this has been the most successful Olympic games for Britain in more than a century.
But measuring its success outside the sporting arena is a little more tricky.
Not only, of course, is it too early to draw any meaningful conclusions, but there are no easy yardsticks to judge against.
Yet one thing is clear - the government expects a return on its £9bn-plus investment, both from a short-term cash injection during the Games and from an economic legacy that will, it hopes, be felt for many years to come.
'Scared off'
Just how significant a boost the Games gives to the UK's flatlining economy remains to be seen.
Initially at least, organisers' efforts to prevent bedlam in the centre of London seem to have been over-zealous, with a number of smaller retailers bemoaning a lack of shoppers.
"We have experienced a big dip in trade since the games began," says William Jones, who runs the T-Shirt Store in Covent Garden.
"It is really quiet - the media and Transport for London have scared everyone away. Usually at this time of year we get lots of tourists, but our turnover is down 30%."
Footfall figures paint a similar, if less dramatic, picture. According to Experian, only three days during the first 13 of the Games saw higher numbers of shoppers in the West End and the East End of London than the previous year.
Anecdotal evidence suggests retailers in other parts of the UK have been similarly affected.
However, larger retailers appear to have fared better - a survey by consultancy Deloitte suggests more saw an increase in demand than saw a fall, while more recent data suggests shopper numbers picked up across the board during the second week of the Games.
"It appears that as the medal count rose, consumer confidence grew, and shoppers started to spend a little more," says Samuel Tombs at Capital Economics.
He expects a small increase in consumer and government spending during the Games to boost the UK's GDP between July and September by 0.2%. Add in the impact of Olympic ticket sales, which will be recorded in the third quarter, and the overall boost to the economy from the Olympic games during the period will be 0.3%, he estimates.
However, this boost could well be temporary and actually result in lower spending later in the year, Mr Tombs says.
Tall order
But what of the longer-term legacy, a key part of the bidding process that helped win the Games in the first place?
Public sector funding for the Games stands at £9.3bn, with some reports suggesting the final total could be double that. In public at least, the government is satisfied this will prove money well spent.
"I'm confident that we can derive over £13bn of benefit to the UK economy over the next four years as a result of hosting these Games," said Prime Minister David Cameron at the beginning of July.
This includes £6bn of investment from overseas, £4bn of contracts for UK firms and £2.3bn of revenue from an upsurge in tourism.
That is a tall order and one that, judging by previous games, will be hard to meet.
According to research into the past 10 Olympics by Citibank, the major economic benefits of holding the Games are realised before they begin, largely due to the massive spending on infrastructure such as building sporting venues.
And as Mr Tombs says, "it is hard to reuse [sporting facilities] to add productive capacity to the economy.
"The money could have been spent elsewhere on road and rail networks that would have delivered a more sustained boost."
An influx of tourists may also fail to materialise - visitor numbers to Sydney fell in the years after the 2000 Games, while the Athens Olympics failed to boost tourism in Greece.
Mr Tombs also argues that the Olympics will play little part in long-term investment decisions made by overseas companies. "I don't expect to see a sustained increase in business investment," he says.
'Fabulous city'
But some argue that lessons have been learned from others' mistakes - that the need to follow through on Olympic commitments has been noted.
"There is a feeling in Sydney and Athens that they they failed to fully capitalise on the Games," says Heather Hancock, lead London 2012 partner at consultancy Deloitte, which is a sponsor of London 2012.
For example, the government is spending £125m on Britain's biggest tourist campaign to date - GREAT - targeting 14 of the world's great cities with the aim of bringing an additional 4.6 million visitors to the UK and creating 70,000 jobs.
The campaign is looking to capitalise on what has been a two-week long advertisement for London.
"Billions have watched [the city] looking fabulous and this can only be a positive thing that must translate into more visitors next summer," says Justin Zatouroff, head of leisure at consultancy KPMG.
The government is also determined to continue pushing for inward investment to build on the goodwill felt towards the UK generated by the Games.
As Ms Hancock says: "The Games showcased the capabilities of the UK - how well they were organised and the quality and timeliness of the venues. They broadened the perception of what the UK can do."
The window of opportunity is short, however, and £13bn is quite some target for an economic legacy that has failed to materialise in most other Olympic host nations.
It will be years before we know whether UK plc will get its money back, let alone make a profit on the Games, but most economists agree major sporting events rarely bring lasting financial reward.
The government will have its work cut out to buck the trend.