Payday loan firm shut down by OFT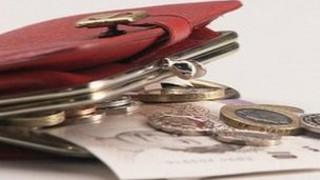 A payday loan firm, MCO Capital, has been shut down for allowing itself to be duped by fraudsters who impersonated more than 7,000 people.
It then chased the victims of the identify theft to repay the cash.
The online firm, which traded as Help Loan, has been shut by the Office of Fair Trading (OFT), and fined £544,000.
The OFT said the firm had broken the rules on money laundering by failing to check the identities of its borrowers.
'Unnecessary distress'
David Fisher, the OFT's Director of Credit, said: "MCO's failure to put adequate procedures in place made it vulnerable to fraud.
"The way in which MCO then wrote to consumers to collect debts caused unnecessary distress and inconvenience to thousands of people."
The story was first revealed in October 2010 by the BBC's Money Box programme.
It reported that Help Loan had only started operating in August that year but had quickly been cheated of more than £1.5m, which it then attempted to recoup by sending aggressive letters to the people whose identities had been impersonated.
By the end of October 2010 the firm said it had stopped chasing the people whose identities had been stolen.
But the OFT says the firm in fact ignored its requests to stop sending letters to them.
MCO Capital has 28 days in which to appeal against the revocation of its consumer credit licence.
Closed down
The authorities are starting to taken an increasingly aggressive stance against rogue money lending firms on the internet.
The law is currently being changed, via the Financial Services Bill, to give the OFT the power to stop immediately any rogue money lenders, debt collectors and debt advice firms from operating.
In March, the loans broker Yes Loans was closed down by the OFT after investigations stretching back over three years.
It had used "deceitful and oppressive" practices against customers, the OFT found.
MCO Capital now operates online as Speed Credit, Paycheck Credit and Pop Credit.
It said: "MCO Capital is disappointed at the decision of the OFT and is studying the adjudication that it takes very seriously."
"When we have had time to fully consider the decision of the OFT will we be in a position to decide our next steps, which could include lodging an appeal."