Yahoo may alter cashback plans under new boss Mayer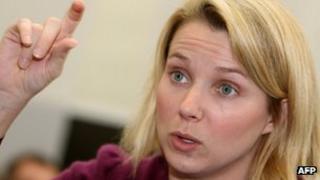 Technology firm Yahoo has signalled it may alter plans to return money to shareholders under new chief executive Marissa Mayer.
Ms Mayer is currently engaging in a strategic review of the company's business.
The firm said this review "may lead to a re-evaluation of, or changes to, our current plans, including our restructuring plan".
She recently joined Yahoo as a surprise hire from rival Google.
Yahoo had - under previous chief executives - promised to return cash to shareholders from a recent deal.
In May, Yahoo reached a deal with Alibaba Group to sell half of its 40% stake in China's biggest internet company for $7.1bn (£4.5bn).
Ms Mayer, 37, is the firm's third chief executive in the space of a year.
Yahoo has struggled in the face of increased competition from internet search rivals including Google, and the emergence of social giants such as Facebook.
While Yahoo still has a market capitalisation of $19bn, Google is valued at more than $180bn.