China and Taiwan sign key investment protection pact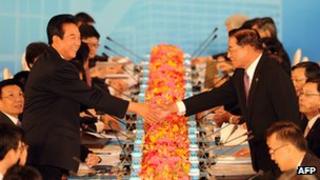 China and Taiwan have signed an investment protection deal, the latest in a series of efforts by the two to foster closer trade ties.
The pact provides investors from both sides with formal channels to settle disputes.
It also details the rights of Taiwanese investors if they are detained by Chinese authorities and vice versa.
China is Taiwan's biggest trading partner with bilateral trade worth $110bn (£70bn) a year.
"The agreement will encourage more mainland investment on Taiwan and give Taiwan investors more room to grow on the mainland," said Chinese negotiator Zheng Lizhong.
"It's an important step in deepening economic co-operation."
Growing scepticism
Taiwan's President Ma Ying-jeou, who won a second term in office earlier this year, has been pushing for closer economic ties with China.
The two had signed a landmark trade deal in 2010, reducing tariffs on hundreds of products.
However some in Taiwan have protested against the efforts to foster closer relations with China.
Critics have argued that such moves will result in increased Chinese economic influence in Taiwan, and may set the stage for an eventual Chinese political takeover of the island.
China does not recognise Taiwan, regarding the island as a breakaway province and wants unification.
"I oppose the deals because China is trying to control Taiwan's economy so it can rule Taiwan," Chen Che, a protestor who was demonstrating against the signing of the latest pact, was quoted as saying by the AFP news agency.
"The deals have political purposes and they are steps towards unification. I'm worried about Taiwan's future if the government sells out to China like this.
"Without democracy we have nothing."