Japan's economic growth slows to 0.3% in second quarter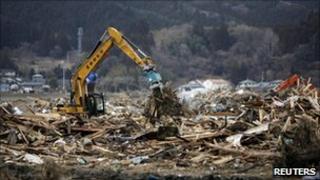 Japan's economic growth slowed in the second quarter as the eurozone crisis hurt exports and domestic consumption remained subdued.
Gross domestic product grew by 0.3% during the period from the previous three months. That is down from 1% growth in the first quarter.
Compared with the same period last year, the economy expanded by 1.4%.
Analysts warned that Japan's growth may slow further in coming months amid an uncertain global economic climate.
"As domestic demand is losing momentum and exports will likely weaken further due to Europe's debt trouble, there is a possibility that Japan will go back into an economic lull in July-September (period)," said Yuichi Kodama, chief economist at Meiji Yasuda Life Insurance in Tokyo.
Multiple factors
Japan's economy has been hurt by a variety of reasons in recent times.
A fragile economic recovery in the US and the ongoing debt crisis in the eurozone, two of the biggest markets for Japanese goods, have hurt the country's export sector.
A strong Japanese currency has made things more difficult for the country's exporters by making their goods more expensive and denting their profits.
According to the latest data, a dip in external demand shaved off 0.1 percentage point from Japan's gross domestic product (GDP) during the second quarter.
At the same time, policymakers have found it tough to boost domestic consumption enough to offset the decline in foreign sales.
Household spending and private consumption both rose just 0.1% during the period, from the previous three months. That was down from 1.2% expansion they had seen in the previous quarter.
"We knew external demand would be weak, and it looks like consumption and public works investment aren't strong enough to support growth," said Hiroshi Miyazaki, chief economist at Shinkin Asset Management Company in Tokyo.
Stimulus measures?
Analysts said the slowdown in demand, both external and domestic, was likely to put pressure on policymakers to introduce fresh measures to spur growth.
They said that such measures were necessary as the positive impact from reconstruction activity in areas affected by last year's earthquake and tsunami was also likely to slow in the later half of the year.
"There will still be public works spending for reconstruction from last year's earthquake, but the gains won't be a fast as they were in the first half of the year," said Mr Miyazaki.
Reconstruction was one of the key drivers of Japanese economic growth during the first quarter.
Last week, Japan's central bank, the Bank of Japan, left its key interest rate unchanged at between zero to 0.1%.