E.On sees half-year profits triple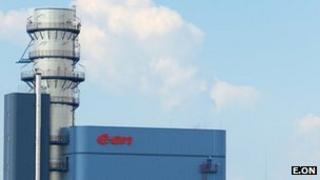 Half-year profits at Germany's biggest utility company, E.On, have tripled.
Net profit for the six months to the end of June came in at 3.13bn euros ($3.84bn; £2.45bn), up from 948m euros in the same period last year.
The results were flattered by a big charge that the company took in the first half of 2011 relating to Germany's accelerated phasing out of nuclear energy.
E.On also benefited from a gas price settlement with Russia's Gazprom.
"Following our long-term agreement with Gazprom and those already reached with other suppliers, our gas business is no longer a strategic work in progress," said chief executive Johannes Teyssen.
E.On's earnings in Russia were up 39% to 400m euros because the company was generating more energy there.
But E.On warned that demand for energy in Europe as a whole had been falling and said it would be taking steps to reduce costs, which could include "closing assets where necessary".
The company said that in Germany it would be considering working with government agencies to keep non-economic generators in service as reserve capacity.
In the UK, sales rose 14% to 5bn euros, which was largely due to the strengthening pound.
But UK sales were depressed by the disposal of E.On's Central Networks business in the first half of 2011.