Easyjet founder Sir Stelios fails to oust chairman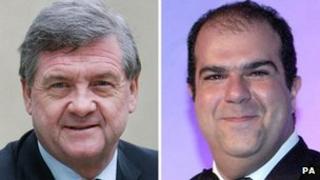 Easyjet founder Sir Stelios Haji-Ioannou has failed to oust Sir Michael Rake as the airline's chairman.
Discounting shares owned by Sir Stelios and those who did not vote, 96% of shareholders voted in favour of keeping Sir Michael as chairman.
Sir Stelios had argued that Sir Michael's role as deputy chairman of Barclays bank kept him too busy to devote enough attention to Easyjet.
The vote is the latest disagreement between the company and its founder.
Sir Stelios and his family control 37.5% of the company.
Last month, Easyjet issued a statement welcoming independent advice from proxy advisory services ISS and Glass Lewis recommending that shareholders vote against the resolution to remove Sir Michael.
It said the majority of Easyjet's institutional shareholders subscribed to one or other of these bodies, and that seven of the company's largest shareholders accounting for 26.5% of the company's shares had already said they would vote against the resolution.
In its report, Glass Lewis said: "We question whether removing chairman [Sir Michael] Rake from the board is necessary or appropriate... [it] would be an unnecessary and unwarranted disruption that would ultimately prove detrimental to the company."
Opposition
Sir Stelios first expressed concern at Sir Michael's role at the company when he was seen as a possible candidate to take over from Barclays chairman Marcus Agius, who is leaving the bank in the wake of the rate-fixing scandal.
But although the chairmanship of Barclays has now been filled by Sir David Walker, Sir Stelios remains opposed to Sir Michael's position as chairman of Easyjet, saying he has too many other roles.
Sir Stelios founded Easyjet in 1995 and floated the airline on the stock exchange in 2000.
Two years later he resigned as chairman, although he remained a director until 2010.
He has had a number of high-profile arguments with the management over the way the company is run.
Earlier this year, Sir Stelios tried to throw out a multi-million pound pay deal for executives but the vast majority of shareholders approved the pay packages.
Easyjet is one of Europe's biggest airlines and employs more than 8,000 people.